Stuck with a slow, unreliable internet connection? Tired of paying for features you don't need? Vodafone Italia has the perfect solution for you! With Vodafone IT Fiber's introduced V-Max, you can enjoy high-speed broadband with no added extras.
Whether you need a plan that comes with a free Wi-Fi repeater with mesh for large homes or one that gives you a free subscription to premium video streaming services, V-Max has you covered. Plus, all V-Max plans come with unlimited calls and texts!
Stop Stressing Over Slow Internet Speeds and Start Surfing with Vodafone IT Fiber's V-Max Plan
Family Plan V-MAX
Price: €39.90 per month

The V-MAX family plan from Vodafone not only gives you fast and reliable internet but also comes with a built-in babysitter! With Safe Network Family Protection, you can rest assured that your kids will only be exposed to the best websites. And if they happen to stumble across something harmful, don't worry—they've got you covered with Wi-Fi Optimizer.
So go ahead and stream away-your family is in good hands with Vodafone Fiber!
Unlimited Internet
From €22.90 per month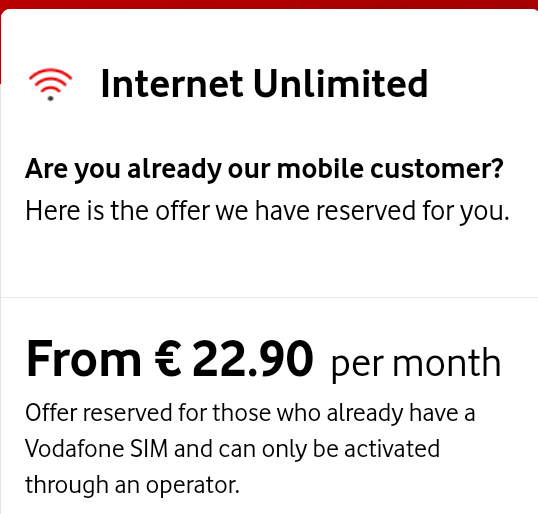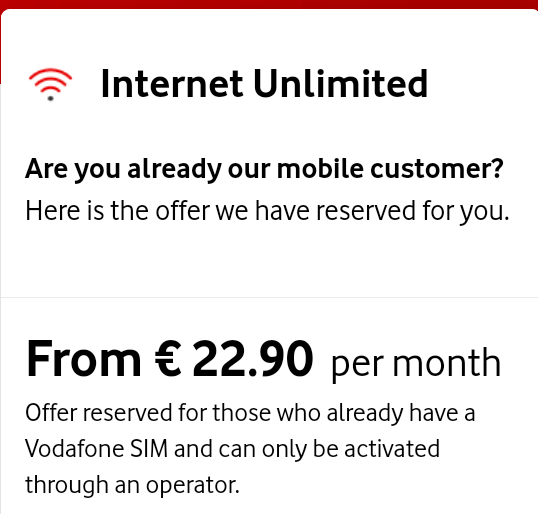 Vodafone's unlimited internet is a great way to get online. With up to 2.5 Gigabit/s of speed, you'll be able to surf the web and stream video at blazing fast speeds. Plus, with the included Wi-Fi Optimizer, you'll be able to enjoy a more stable connection with fewer dropped connections.
And best of all, the activation cost is free!
ONLINE EXCLUSIVE Internet Unlimited
Price: was €29.90 now €27.90 per month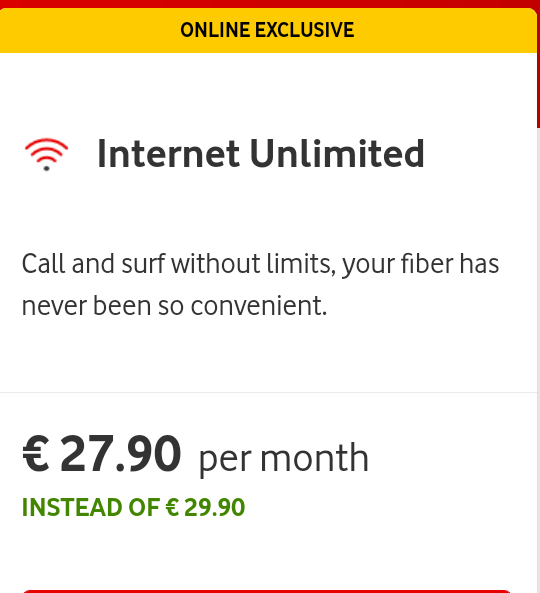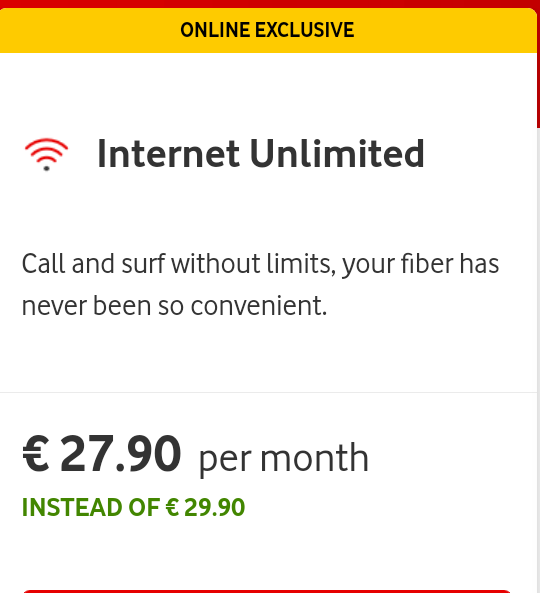 Are you looking for an unlimited internet plan that won't break the bank? Look no further than Vodafone's Online Exclusive unlimited internet plan! For a limited time, you can get this great deal on an internet connection with no limits on data usage. Plus, there are no activation fees and the modem is included. And with speeds of up to 2.5 gigabits per second, you'll be able to surf the web and stream videos at lightning-fast speeds.
So don't wait any longer-get unlimited internet today with Vodafone!
Internet Unlimited V-MAX
Price: was €34.90 now €32.90 per month


Internet Unlimited V-MAX is the best Vodafone connection to surf with maximum speed, stability, and coverage throughout the house. It has a free activation fee, free shipping, modem included, internet up to 2.5 gigabit/s on FTTH technology, and a modem with Wi-Fi Optimizer. In addition, it offers calls from landlines to promotional WEB customers and Vodafone Always Connected Backup 4G to surf.
Get the offer today and stay connected!
Fibra + SIM Mobile
Price: €34.90 per month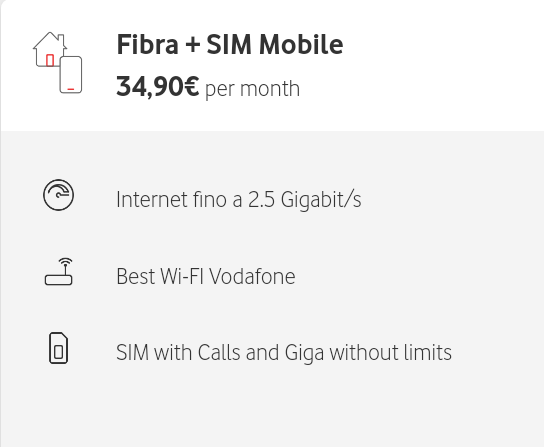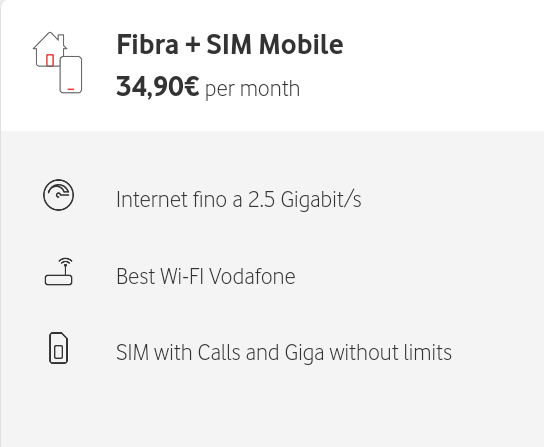 For those who need a fast and reliable internet connection, Fibra + SIM Mobile is the perfect solution. With download speeds up to 2.5 Gigabit/s, Fibra + SIM Mobile is the perfect way to stay connected whether you're at home or on the go. Plus, with no limits on calls or data, you can keep in touch with friends and family however you want.
Try Fibra + SIM Mobile today and see for yourself!
So what are you waiting for? Switch to Vodafone IT Fiber Plans today and connect to the rest of the world!