Ferry by Xcaret Xaling takes you to the Magical Town of Isla Mujeres. Discover the beauty of Isla Mujeres on the Xcaret Xailing Ferries! Aboard modern boats with state-of-the-art technology, you will cross in only a few minutes from Cancun to Isla Mujeres.
Get ready to discover Isla Mujeres with Xcaret Xailing! Moreover, you can take advantage of 10% off for one-day in advance purchases using the promo code FERRYWEB until December 31st, 2023.
Shop and Save Big with Xcaret Ferry 10% Off Promo Code
Ferry to Isla Mujeres
ADULTS: Regular: 13.42USD
FERRYWEB discount: 11.97USD
CHILDREN: Regular: 9.92USD
FERRYWEB discount: 8.82USD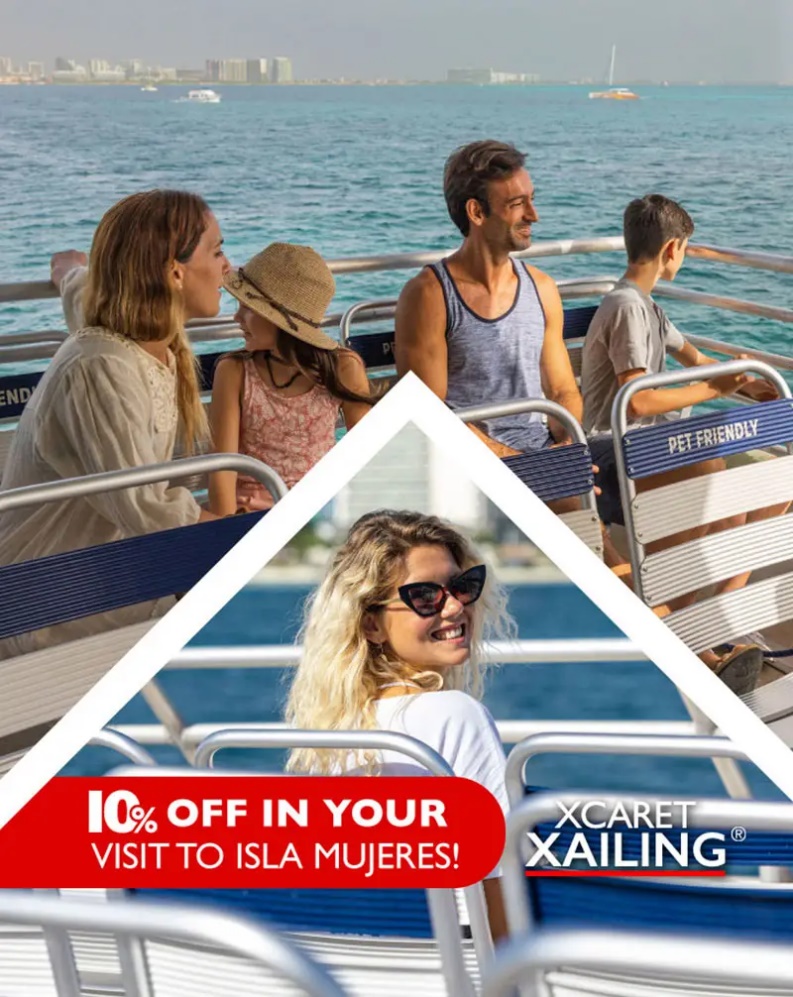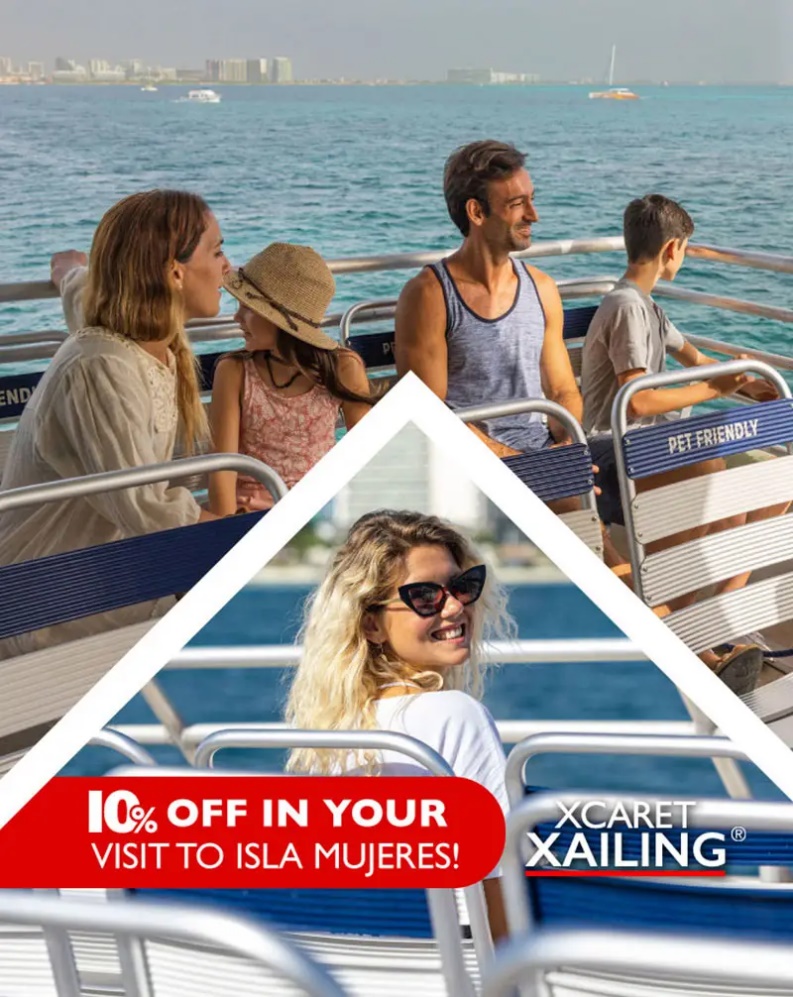 Schedules
Cancún (Embarcadero) Isla Mujeres
09:00 a.m.—10:00 a.m.
10:00 a.m.—11:00 a.m.
11:00 a.m.—12:00 p.m.
12:00 p.m.—01:00 p.m.
01:00 p.m.—02:00 p.m.
02:00 p.m.—04:00 p.m.
04:00 p.m.—05:00 p.m.
05:00 p.m.—06:00 p.m.
06:00 p.m.—07:00 p.m.
07:00 p.m.—08:00 p.m.
*Schedules are subject to weather conditions and operative capacity. The open ticket allows you to board at any of the available times.
Take the ferry and leave your worries behind!
Trip Includes


Sea transfer on two routes: Cancun – Isla Mujeres or Isla Mujeres – Cancun, whether single or round-trip ticket.
Free access to the Scenic Tower of Cancun.
WiFi and toilets on board.
Designated seating and spaces for people with disabilities.
Luggage storage.
Travel insurance.
Pet area.
Book your ticket for the most exciting ferry adventure.
Recommendations


For your safety, we ask you to respect the restricted access areas and remain seated during the ride.
We ask you to arrive in advance of your departure time. Also, arrive with plenty of time if you have to check any piece of luggage.
If your clothes are wet or you have sand, we ask you to use the external spaces.
Wear comfortable clothes, a cap, and chemical-free sunscreen.
Show to the ferry port 30 min before boarding. Spaces are subject to availability.
Minors under 18 years of age must travel with an adult.
Now experience the magic of the sea with Xcaret.
Important Information


Please confirm the pick-up time and place if you added transportation from your hotel.
Your ferry ticket is valid for 6 months from the date chosen, in case you need to make a change.
An adult must accompany minors.
We ask you to follow all the crew's instructions for your safety and that of your family and friends.
In case of bad weather, the authorities, through the Port Captaincy, will indicate if safe navigation is possible.
To access the Scenic Tower, you must present your Ferry ticket. It is valid for up to 7 days after the visit date.
Take a break from the road, hop on the Ferry Boat.
The Xcaret Xaling ferry will transport you to the Magical Town of Isla Mujeres. Take advantage of a 10% discount and visit one of the most beautiful islands in the Mexican Caribbean. Use the code FERRYWEB and purchase your tickets!