Do you know Public Health England declares vaping 95% less harmful than a cigarette? It is the best alternative to combustible tobacco. So go for Vape Dinner Lady because they are the best in town! With award-winning premium quality e-liquids and perfect vape kits, they offer high quality with Vape Dinner Lady Discounts.
The iconic Lemon Tart e-liquid is world-famous, and they have a full range of tantalizing flavors including Desserts, Fruits, Ice, Menthol, Sweets, and Tobacco. Their new disposable Vape Pens are Prefilled, charged, and ready to vape – just open and enjoy! They contain Nicotine Salts e-liquid for a smooth smoking experience that closely resembles cigarettes. They offer adult cigarette smokers an affordable alternative that can help them discount their smoking habits.
Vape Dinner Lady Discounts
Three Bottles – Mix & Match 30:70 10ml
Price: was £11.97 now £10.00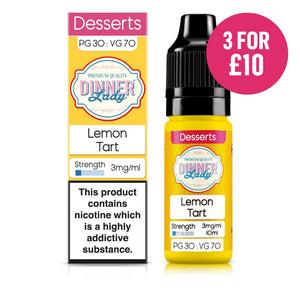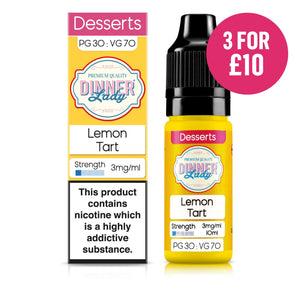 This is a delicious way to enjoy your favorite Dinner Lady flavors. These high VG e-liquids offer 70% VG and 30% PG, creating dense clouds with rich flavor. The premixed 3mg or 6mg of nicotine makes these liquids perfect for enjoying your favourite flavors without having to worry about nicotine levels.
So why wait? Buy it now and start mixing and matching your way to vaping bliss!
Three Bottles – Mix & Match 50:50 10ml 18mg
Price: was £11.97 now £10.00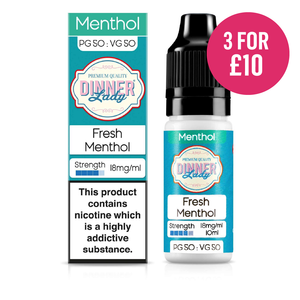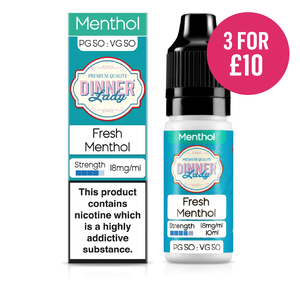 It consists of four major components: propylene glycol (PG), vegetable glycerin (VG), food-grade, food flavorings, and nicotine. The award-winning flavors are one of a kind and perfectly balanced. This e-liquid is premixed with 3mg or 6mg of nicotine to create impressive, dense clouds with a rich flavor.
This has a smooth flavor and is made in Britain, so this is another excellent choice for any vaper!
3 Bottles – Drinks Iced Tea Range Pack
Price: was £37.97 now £30.00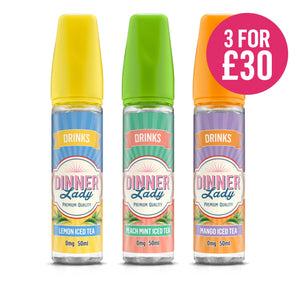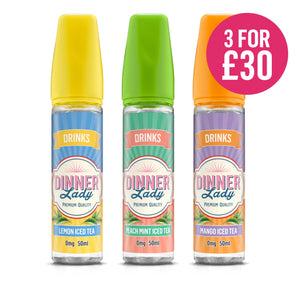 Do you love tea? Then you'll love our Iced Tea range pack! This refreshing blend of lemon, mango, and peach is perfectly balanced with the bitter taste of tea. The refreshing undertone of ice makes this liquid perfect for hot summer days. This multipack of Iced Tea flavored Shortfills will create impressive, dense clouds with a rich flavor.
So what are you waiting for? Try our Iced Tea range pack today!
Three Pack – Mix and Match Vape Pen Disposable E-cigarette
Price: was £11.97 now £10.00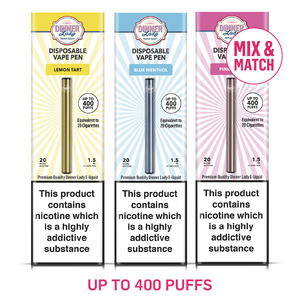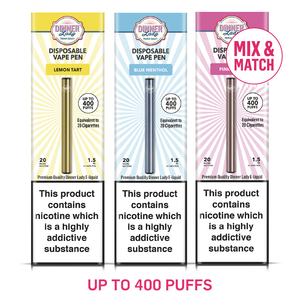 This multipack gives you the freedom to mix and match as you please. No need to charge or refill— Vape Dinner Lady's disposable e-cigarette is the perfect device for vapers seeking a no-fuss experience. It delivers the ultimate vaping experience with each flavor reformulated to complement the battery, output wattage, and coil resistance of the disposable.
So why not try out all three flavors in this pack and find your new favorite?
10 Bottles – Nicotine Shot 10ml 18mg
Price: was £19.90 now £14.99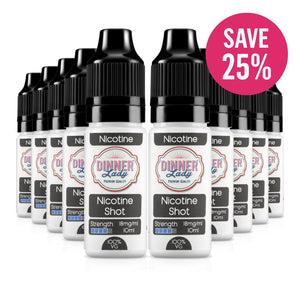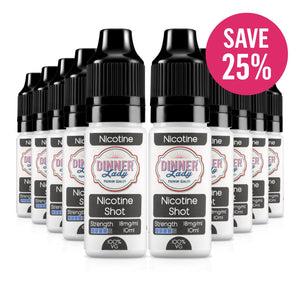 If you're in the mood for something DIY, in that case, pick up a multipack of Nicotine Shots and get creative! Add them to your favorite Dinner Lady Shortfill bottles for a 60ml bottle containing 3mg of nicotine. Or mix them with concentrates to create your personalized vape juice. Get complete control over your nicotine levels with this case!
Enjoy the latest trend in the vaping industry – Let Vape Dinner Lady help you do that!