What Makes Three UK  The Perfect Fit For You? Let's Delve Deeper Into It!
Three UK is considered among the top four network providers in the United Kingdom, it has seen tremendous growth over the past few years. Three offers some of the most wallet-friendly deals which sometimes make you think that they're too good to be true, you can often find interesting mobile bundles on their website too. Here are some of the best qualities of the network:
It has nicely priced plans which give its competitors a tough time.
Three provides unlimited calls and text messages throughout the United Kingdom.
Allows users to avail of 5G at no extra cost while also having the widest 5G coverage in the entire United Kingdom.
Provides unlimited data plans (no strings attached).
Decent cell phone bundles.
4G and Wi-Fi calling.
This is barely scratching the surface, Three has a bunch of other perks to offer that keeps its customers satisfied, and its competition on their toes.
Phone Bundles:
Three offers a number of phone bundles in both pay as you go & pay per month plans at great prices, the phones range from a wide variety of brands that can easily satisfy even the pickiest of customers.
Avail of the best deals that Three has to offer.
Broadband Services:
Three's broadband services enable the user to get truly unlimited data without the usual hassles of broadband installation. The company offers various plans depending on the customer's needs. These include home broadband and on-the-go broadband. Besides, there's even a next-day delivery if you place an order before 20:00.
Get your hands on a super-fast broadband device today!
Award-winning 5G Service:
Three's 5G coverage and service can definitely be considered its crown jewel, it's what the company banks on when attracting customers. A fun fact is that Three's 4G service used to be mediocre. But the company's investment in 5G turned that drawback around. Now both their 4G and 5G services are something to take pride in.
Learn more about the UK's fastest 5G network.
SIM-Only Offers:
Are you already satisfied with your phone? Don't fret my friend, if three's benefits entice you then you can opt for SIM-only offers. Also, they come in pay as you go & pay per month plans.
Tired of limited 5G coverage? Get your hands on a Three SIM today!
Three Go Roam:
Three offers a cheap roaming service that covers an extensive range of more than 70 countries worldwide. The cost is rather affordable too, at 2 pounds per month if you're in the UK, and 5 pounds per month if you're anywhere else.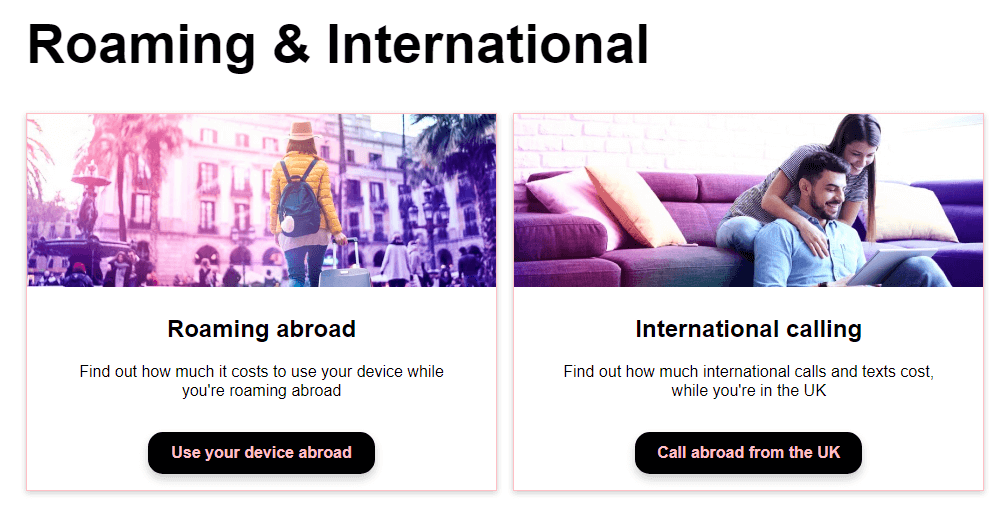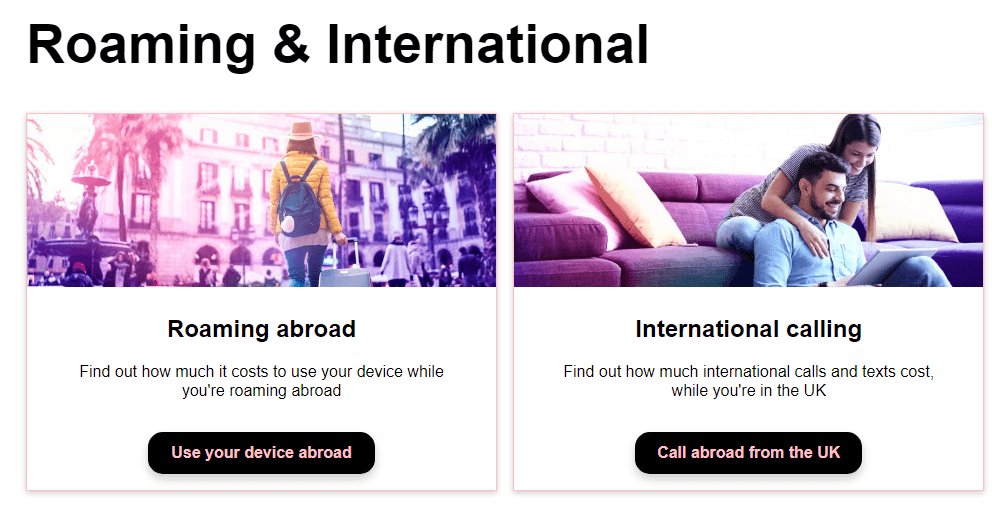 Feel free to explore more about Three Go roam.
To cut things short, Three is a name that needs no introduction, it's definitely considered among the UK's telecommunication giants. The company's aware of its great 5G services and does its best to advertise that whenever possible. Three's certainly the perfect fit for you. Plus, if you're looking for a fast network with a wide coverage range, and affordable prices.