Mymuesli – Your favourite Muesli, made with only the best organic ingredients and plenty of love. They are the world's first business that allows you to create your own personalised organic muesli from over 80 different components. And that for 12 years! Whether Bircher muesli, protein muesli, or chocolate muesli – with 566 trillion muesli variations, there is something for everyone. Controlled biologically and without additives. Let's continue reading this MyMuesli DE review to find out the best Easter MUESLI for you!
MyMuesli DE Review
EASTER MUESLI
Price: €9.95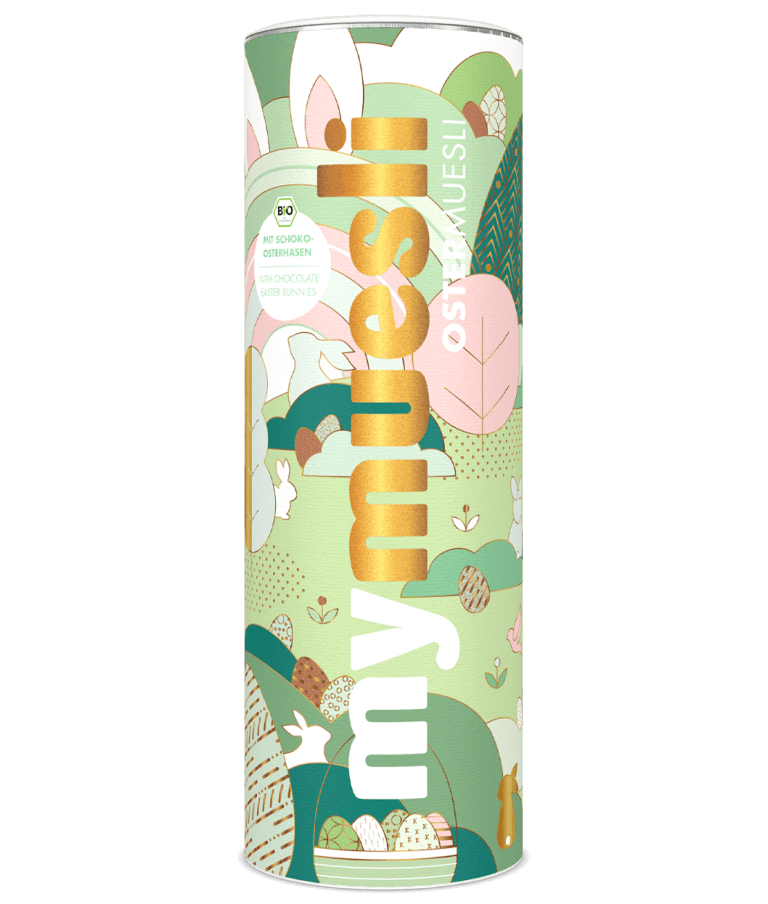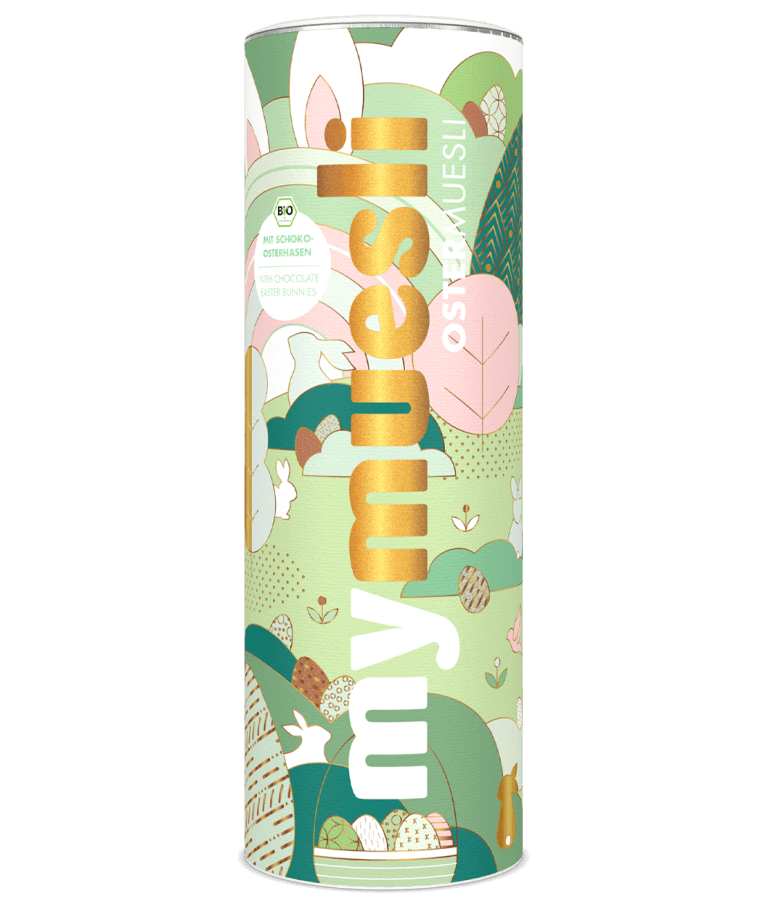 You don't have to look far to find the numerous mini chocolate bunnies. They could land on every spoon – and inspire you with their taste. Thanks to the best organic ingredients: cocoa butter, cocoa mass, and coconut blossom sugar.
Good chocolate is everything you need.
D100 MINI GIFT BOX
Price: €12.90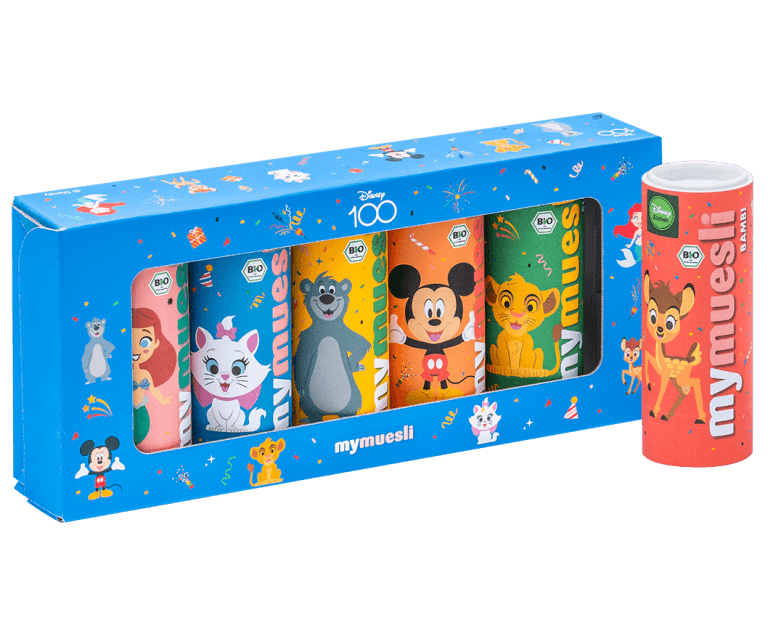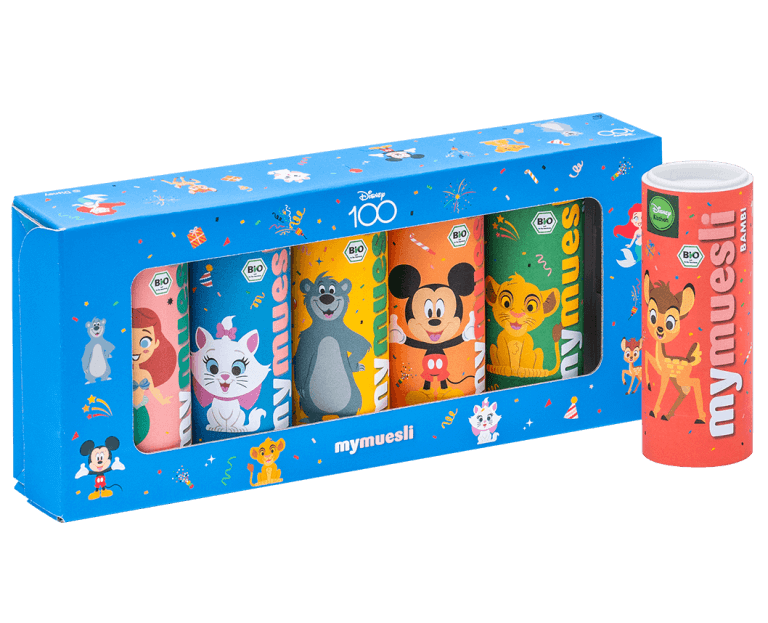 6 mini mueslis with the motifs of your Disney friends. Because they are celebrating 100 years of Disney! Dreams of fruity strawberries and raspberries in white chocolate that melts in your mouth. Of crunchy chocolate chips and pink hearts of puffed wheat. And since dreams come true with us, we have made them come true: in 3 different varieties.
May your Easter be EGGcellent.
EASTERNEST
Price: €29.95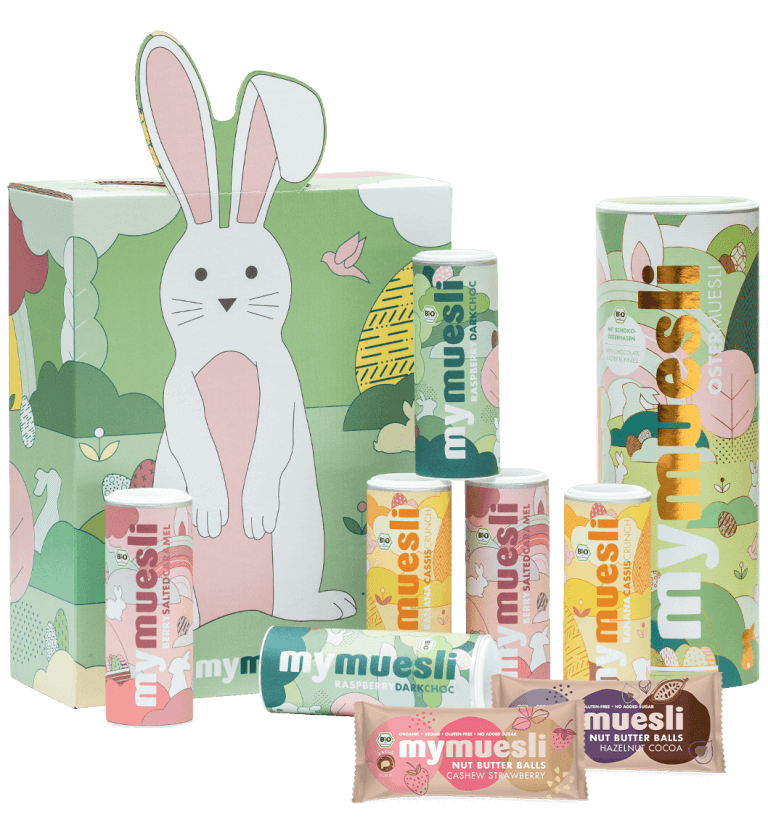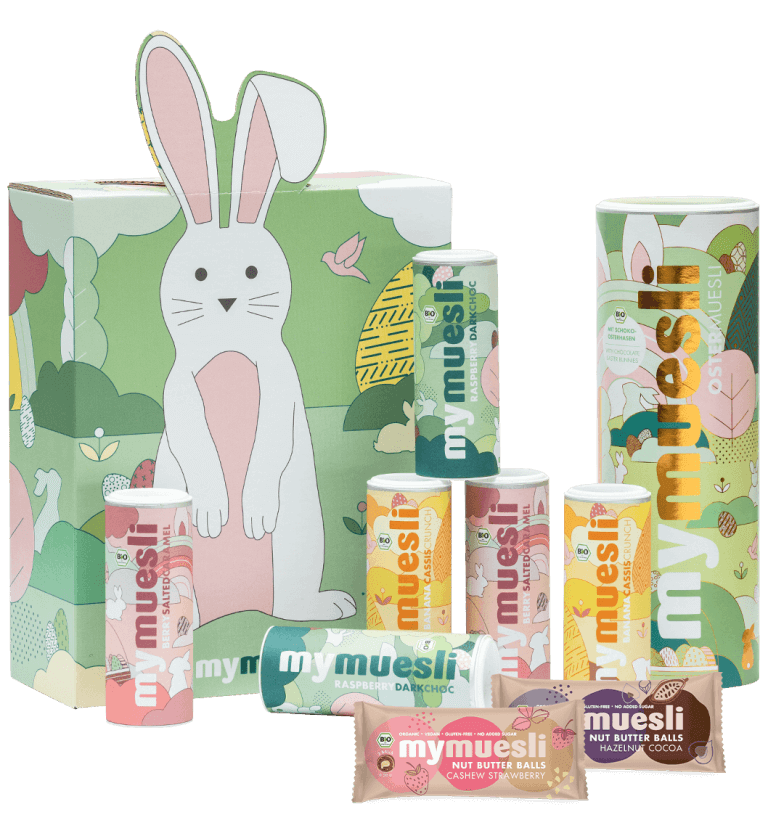 Play the Easter Bunny yourself and surprise your loved ones with their generously filled Easter nest! Of course, you will find their popular Easter muesli with little bunnies made from the finest vegan coconut blossom sugar chocolate. Also, 6 crispy mini mueslis in 3 varieties: Raspberry Dark Choc with cranberries in dark coconut chocolate. Berry Salted Caramel with Salted Caramel Crispies. And Banana Cassis Crunch with Blackcurrants. Not to forget, 2×3 Nut Butter Balls in the 2 flavors: Hazelnut Choc and Cashew Strawberry.
Fill your Easter basket with joy and lots of muesli.
EASTER CHOCOLATE PACKAGE
Price: now €34.95 was €37.80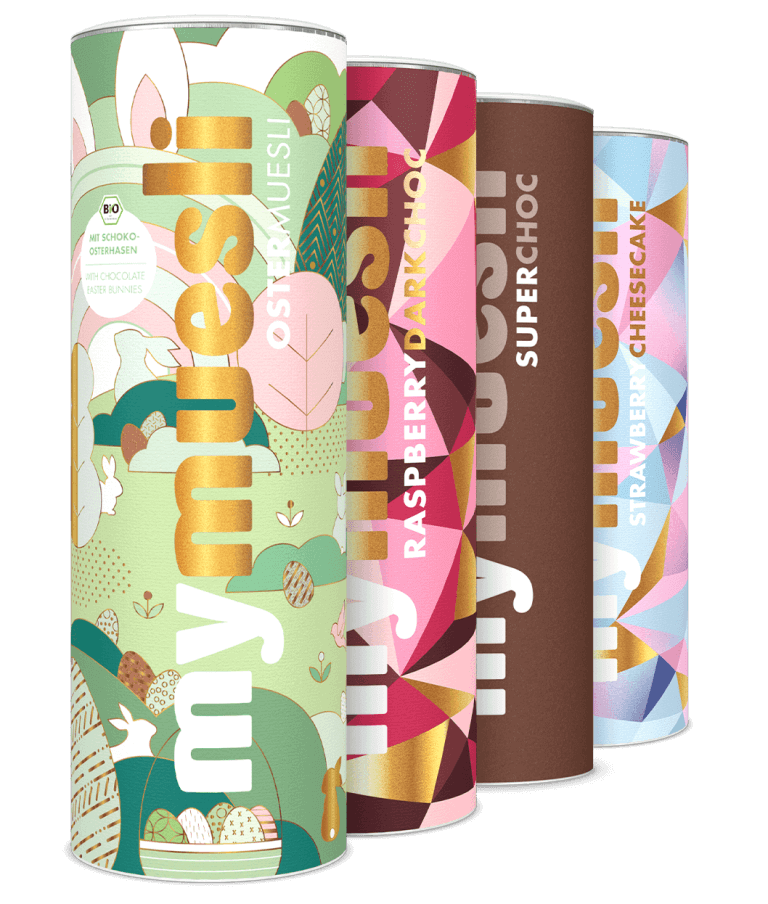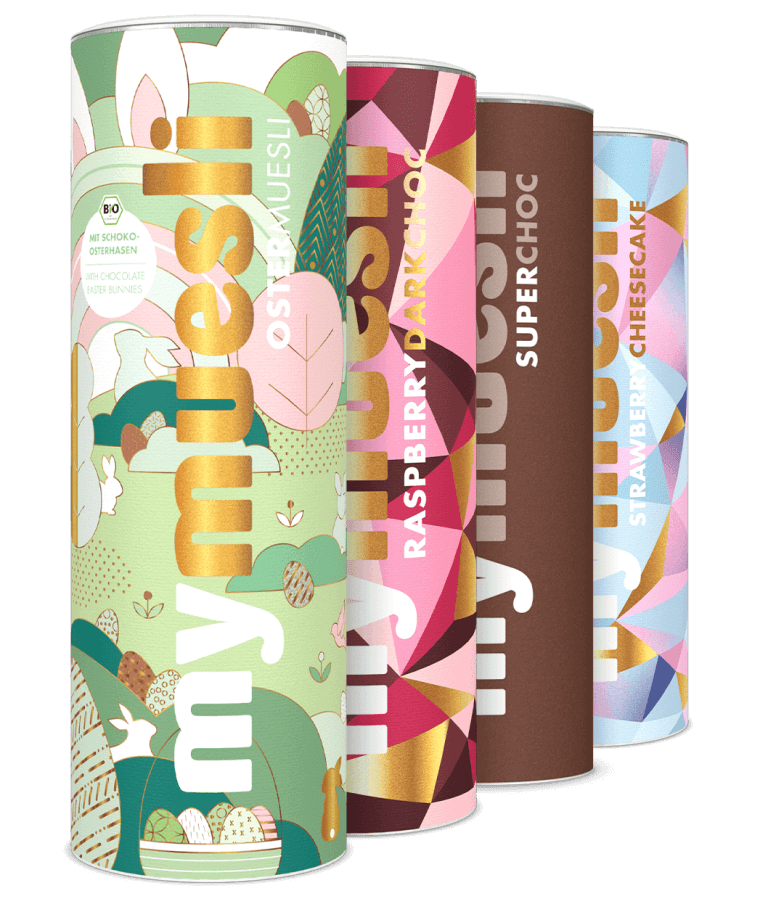 You found it immediately without looking far: our 4 crispy mueslis for your Easter brunch. Get the spoon ready for aromatic strawberries and yogurt chips in Strawberry Cheesecake. Cranberries in vegan coconut blossom sugar chocolate in Raspberry Dark Choc. 6 crunchy chocolate ingredients in Super Choc. And, of course, the Easter bunny in the form of melt-in-the-mouth mini chocolate bunnies in Easter muesli – because we can't hide this muesli love from you.
A wonderful present for friends and family.
EASTER MINI PACKAGE
Price: €39.95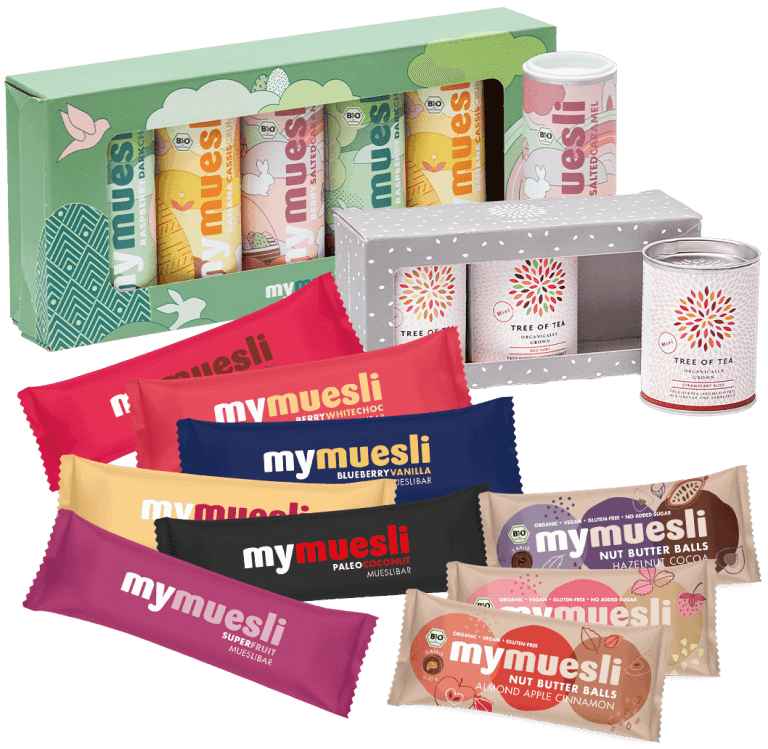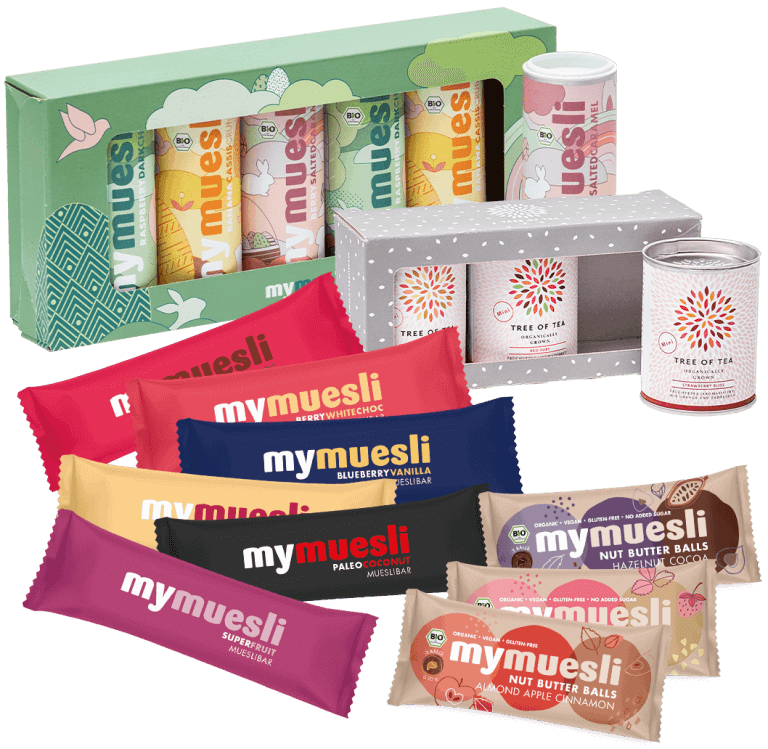 As a gift or directly for your Easter brunch: the 6 different muesli bars and our fruity, chocolaty nut butter balls are guaranteed to be great spread out on the table. Then our 6 crispy mini mueslis in 3 irresistible varieties filled in bowls. And the 3 aromatic, fruity teas in cups – the short-lived picture is complete. After all, who can hold back when there are so many delicacies? We are not…
Easter gift that will blow them away.
Hey, muesli fan! Check My Muesli DE reviews, and don't hesitate to sign up for the newsletter and get your 10% voucher.