There are several methods available if you need to convert a JPG picture, such as a photo, into a PDF file. One of the simplest methods is to use a website, of which there are several, that allows you to submit your image (or a number of photographs), converts them into a PDF, and then allows you to download the PDF to your computer.
You don't need to download or install any software to use this method or any of the others we'll show you; but, if you want better control over the appearance of the photographs, you might choose that alternative.
How to Convert JPG to PDF on Windows
Another method for converting JPG to PDF on Windows is to use the print feature.
Step 1. Open a JPG
Step 2: In the JPG file, press the "Print" button. If you have Wondershare PDFelement installed on your computer, select "Wondershare PDFelement" as the printer choice. If not, select the default printer on your Windows machine.
To install PDFelement, click the Download button.
Step 3: Save the Converted PDF file.
Tips: If you use Wondershare PDFelement as the printer, PDFelement will be launched immediately, and the converted PDF file will be opened.
How to Convert JPG to PDF on iPhone
As an alternative to utilizing a laptop, there are techniques to convert JPG files to PDF on an iPhone if you have one. This is a very useful ability to have for modern, mobile users who do business quickly. Simple steps for iPhone users are given below.
In terms of functionality and user interface, the iPhone and iPad are comparable, and one of them is compatible with the other two. As a result, you may also use these instructions on an iPad.
Step 1: Open your iPhone's Photos app in the first step.
Step 2: Select every picture you wish to turn into a PDF. Next, select a folder on Files by tapping Save to Files, and the JPG photos will be saved there.
Step 3: Open the JPG photos in the Files app. To choose all of the photos, use the Select button.
Step 4: Tap the three-dot button at the bottom right of the screen and select Create PDF to begin the process of making a PDF from JPG photos.
When you are ready, save the PDF files. Done! You've converted JPG to PDF on iPhone successfully.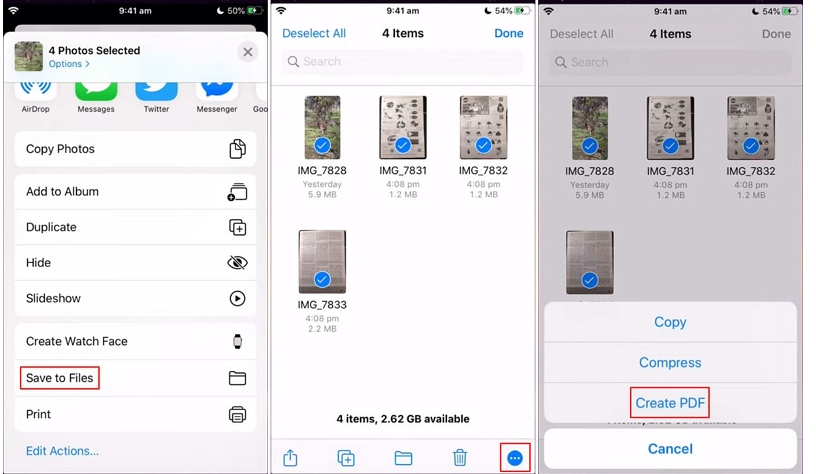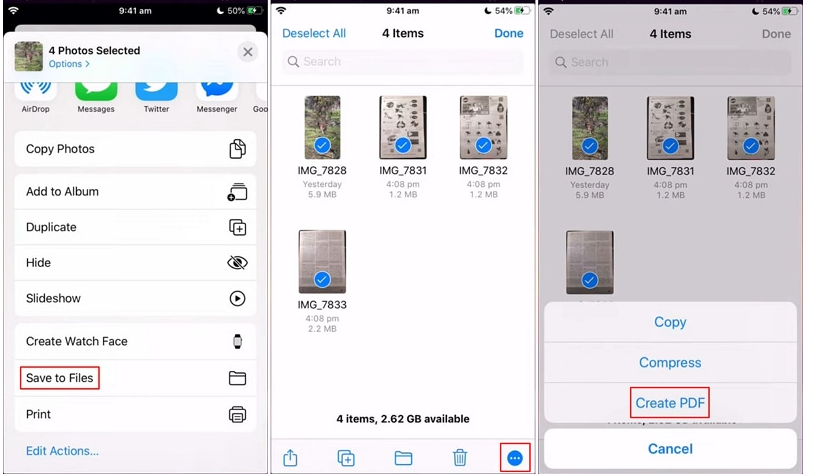 How to Convert JPG to PDF Online
Online tools are now more convenient than remembering so many various apps because they are constantly available from anywhere and on any device.
Step 1. The first step is to, go to HiPDF JPG to PDF online and upload your JPG online to the HiPDF website.
Step 2. After you click the Upload button, now press the Convert button.
Step 3. The document will be scanned by OCR, which will then start an online PDF converter to create the final PDF.
Step 4. Now you can easily download it on your computer.