BT Broadband Packages Review
We always want a broadband connection that doesn't just boast but actually proves what has been said. And when we talk about broadband connection that proves to be the one, we cannot forget mentioning BT.
BT broadband has some great selling points as a broadband provider. Depending on your needs, BT broadband has many tempting packages that might help you find the one you want. Some reasons to buy a broadband connection include the reliability, great and smart router function, and fast loading speed with Fibre 1 and 2 broadband packages.
Furthermore, BT offers impressive technologies that make sure that you can rely on the provided broadband connection. The complete broadband service ensures that the Wi-Fi covers every corner of your house. BT is also famous for its cashback offers with its cashback reward cards. Through which customers can easily avail extras such as security software packages, BT Sports, Free Wi-Fi hotspot, Cloud Storage, and the offers that keep coming in.
Popular BT Broadband Deals


By just entering your region postcodes you will get estimated prices for your selected address. You can always customize your package and add up any extra perks you want by clicking to customize your package.
With inclusive package details, make your wish list and enjoy the best experience.
Overview Of Fibre packages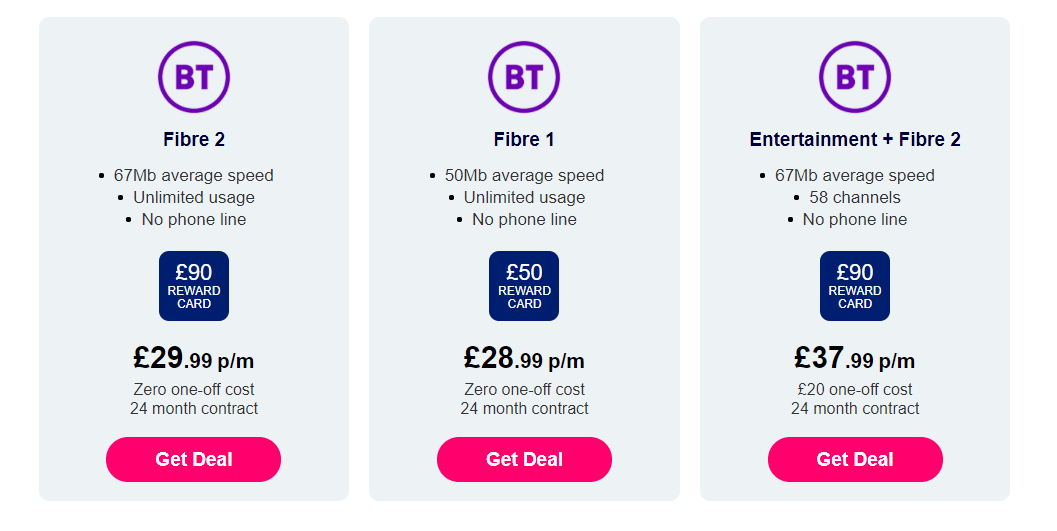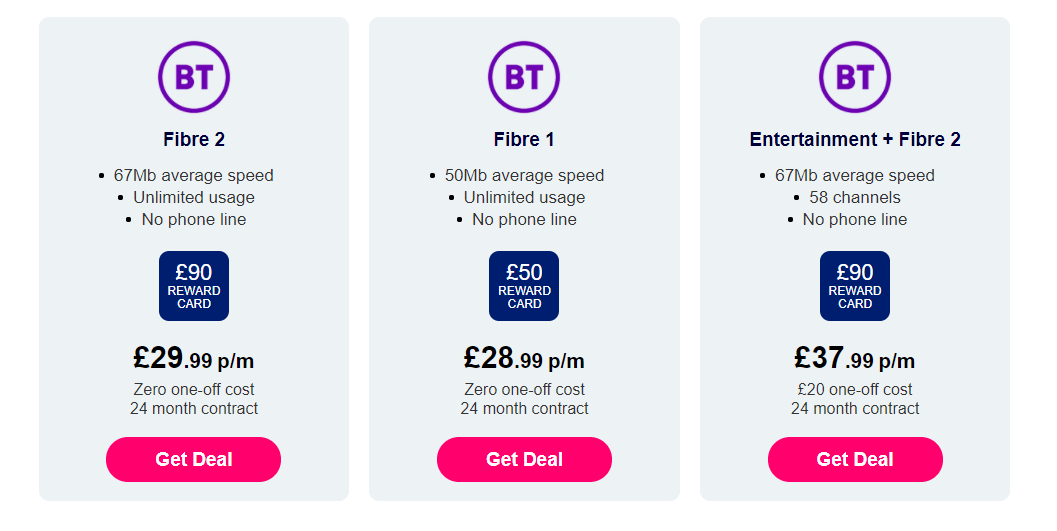 Image source: cable.co.uk
To have a complete overview check out the table below. But make sure to look for desired packages according to the opted address as not all the packages contain the same fibre deal.
| | |
| --- | --- |
| Home Phones | Yes |
| Broadband | ADSL & Fibre |
| Download speed | 10-900Mbps |
| Upload Speed | 1-110Mbps |
| Freebies | Zero one-off costs & Reward Cards |
| Router | BT Home & Smart Hub |
| Prices start from | £24.99 per month |
| Service Length | 24 months min. |
| Available packages | Broadband & phones, Broadband only, Broadband & TV |
Broadband Speed
Broadband should provide a healthy speed when there are more internet users in a house. This means the more devices are connected to a connection doing activities like gaming, streaming movies, or just for socializing, the quicker and faster connection you will need.
For this, BT provides a range of affordable packages that meet the exact needs of every household.
BT Fibre
Fibre Broadband from BT is much more reliable and faster as compared to other broadband standard service providers. This is why BT broadband suits perfect for families that spend more time on the internet for streaming videos and downloading movies, uploading content, socializing, and spending time in gaming.
BT offers three affordable Fibre packages, which include Fiber essential, Fibre 1, and Fibre 2 with average downloading speeds of 36, 50, and 67 Mbps respectively.
BT Packages
BT has both Phone and TV broadband packages and that you certainly want to have a look at.
Broadband and TV – In the wake of Netflix fever, you must take advantage of BT's TV packages. Moreover, here you can find a range of BT Sports, Freeview, and Entertainment options to choose from.
Broadband and Phones – At BT you may not find any free call packages but the ones BT offers are much affordable. Packages offer a standard pay-as-you-go calling facility with an upgrade to make international calls using your landline.
Switch to BT Broadband and enjoy the uninterrupted streaming.